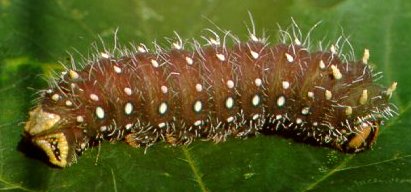 The Larva of
Eacles imperialis
"Imperial Moth"
Found on the road near Uffington
District Municipality of Muskoka
August 14, 1998.
---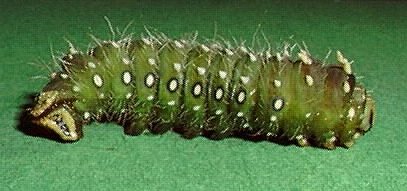 The two inch long larva was rescued from a Scarlet Tanager which was on the road pecking it to death. After two days in a container with fresh green leaves it's color changed to match the new habitat. The larva was inactive for several days without feeding and there was concern that it might have been injured by the bird's attack.

---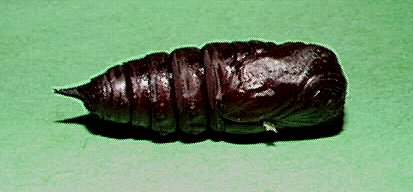 On August 26, the larva shed it's skin revealing the brown pupa cell where it will spend the winter underground. The pupa will be buried outside by dropping it into an hole the same size as the pupa and then covering it with leaves and a jar. Next June if we are very lucky the adult moth will emerge. Stay tuned.

---
Photos by A. Sinclair
Top: Scanned from the original slide
Middle and bottom: Digital images from a Minolta Dimage V
BACK TO NATURE NEWS