Bracebridge Sewage Lagoons Update
March 29, 2001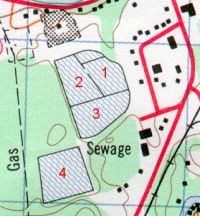 The second public meeting in the Environmental review process for the new Bracebridge sewage treatment facilities was held March 7. The meeting was not that well attended, only about a dozen names in the sign-in book, mostly members of the Muskoka Field Naturalists and others concerned with the future of the lagoons.

The engineering consultants from Barrie had an impressive display of charts and graphs showing how the existing system works and proving the need for more capacity in the near future. A plan was presented to solve the capacity problem, basically build a new expandable treatment plant by 2006 and upgrade the efficiency of the old plant in the meantime. They didn't release the planned location of the new plant or the future of the existing sewage lagoons. This will be revealed in the next stage of the hearing process. The environmental consultants subcontracted to do the plant and animal inventory did a good job of promoting the value of the lagoons to wildlife and the opportunities they provide for wildlife viewing.

I am optimistic that at least some of the lagoons will remain intact, however in other parts of the presentation there were a few "red flags" that gave me cause for concern. It was stated that less lagoon capacity will be needed in the future and that cell 3 was less used by wildlife than 1 or 2. They are likely planning to build the new plant on the south side. This will require cell 3 to be partially filled to make room. We can't do much about that but there was also mention of studies to be done on the constructional integrity of cell 4, the south-west cell. Could they be considering abandoning it? This should not be allowed to happen as this would significantly reduce the size of the lagoon area. Another suggestion was that landscaping changes could be used to improve wildlife viewing. Maybe, but if done incorrectly it could also reduce the amount of wildlife.

The next meeting will give more details of the final plan. I think it's important that we continue to participate in the review process and express our concerns that the lagoons not be changed or abandoned. I had a chance to talk to the environmental consultant at the meeting who turned out to have a special interest in shorebirds and lagoons . Twice in the conversation she advised "letters help". The Muskoka Field Naturalist's position was sent in a letter last month, the text is at this link.


MFN LETTER


If you enjoy birding at the Bracebridge Lagoons, if you think the lagoons are valuable to migrating and nesting birds, you can help save them by sending a letter. Several individuals have already sent in their comments, if you haven't yet you should do it soon. We will keep you informed of future meetings.
Send Comments to:
C. J. Borgmeyer
CH2M Gore & Storrie Limited,
1535 Bayfield St, Suite 201,
Barrie, On L4M 3B3
Telephone: (705) 722-8800
Fax: (705) 722-6516
Email: cborgmey@ch2m.com

District Municipality of Muskoka
Engineering and Public Works Department
70 Pine Street
Bracebridge, On P1L 1N3
1-800-281-3483 or 705-645-6764
Fax 705-645-7599
Email publicworks@muskoka.on.ca

---
BACK TO NATURE NEWS HOME